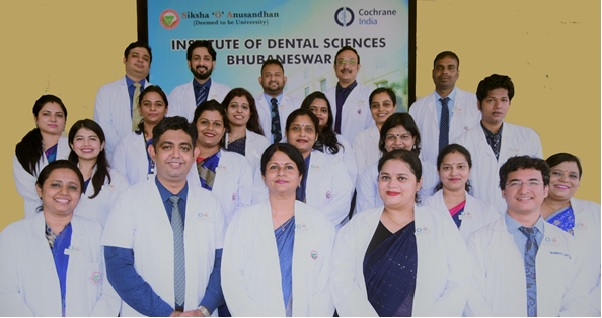 COCHRANE AFFILIATE TEAM AT INSTITUTE OF DENTAL SCIENCES, BHUBANESWAR
The Institute of Dental Sciences, Siksha 'O' Anusandhan (Deemed to be) University, Bhubaneswar (https://soa.ac.in/ids) was officially established in 2006. (here-in-after referred to as the "IDS, Bhubaneswar").
IDS, Bhubaneswar stands elite among top 20 institutes in the country by NIRF (MHRD) and ranked 1st in hospital rankings of Eastern India for four consecutive years. It has been accredited by NAAC "A" grade.  IDS is the brain child of its visionary and humanist founder Prof. Manoj Ranjan Nayak. Since its inception in the year 2006, it has gone through leaps and bounds in a short period of time to transform into one of the premier dental institutes of India.
This Cochrane affiliate centre is dedicated to the teaching and research operations of evidence-based medicine, evidence synthesis, knowledge transformation, evidence-based decision making, clinical epidemiology and oral health awareness. We at IDS, Bhubaneswar aim in disseminating and providing the language summary of Cochrane protocols and full reviews of various Cochrane groups available, translated into individual local language, which could be beneficial for the public access in Eastern and North-Eastern region of India. We also plan to update the official website of the Cochrane India Network, which could be available to be assessed by healthcare workers as well as patients according to their level of understanding. The website will aim to help us in spreading awareness, posting upcoming events and showcasing past success of our geographic group.
We house a high coverage media network with an acclaimed news channel "News 7" and popular local dialect newspaper "Prameya" circulated widely among urban and rural areas. Moreover, we also possess a SOA community radio "90.4 FM" which aids in propagating the importance of choosing high quality evidence. The wide network of social media platforms namely our very own IDS Cochrane Facebook, Instagram and YouTube page will be propagating the best-in-class evidence put forward by Cochrane collaborations.
The awareness about the best-in-class evidence and Cochrane's effort to collect and interpret them with a rigorous methodology, is currently lacking among many healthcare workers, facilities and patients in the Eastern and North-Eastern region of India. We aim to attempt in spreading the awareness and presence of Cochrane India Network by conducting numerous workshops for health care professionals from both medical and dental background. Our mission is to collaborate with premier institutes of Eastern and North-Eastern states to disseminate evidence-based practices in oral health.
IDS, Bhubaneswar takes a leap forward in organizing and carrying out various workshops to encourage researchers from different medical, dental and para-medical fields with varied region of interests.
Our responsibilities
(1) Organizing research on evidence-based medicine and clinical research and establishing relevant databases;
(2) Organizing training in evidence-based medicine and clinical research methodology and Training evidence-based medicine and clinical research talents;
(3) Guiding the development of evidence-based clinical practice and promoting clinical decision-making among health care professionals and public;
(4) Teaching of evidence-based medicine, clinical research and clinical epidemiology related courses for under-graduates, post-graduates, doctoral and international students of Siksha 'O' Anusandhan (Deemed to be) University;
(5) Overseeing the operation of affiliated academic organizations, organizing academic exchange activities, and disseminating the latest knowledge;
(6) Providing access to evidence-based medicine practices in remote areas
The methodological support that the centre can provide includes: (1) Secondary research: systematic review, various types of Meta-analysis, Meta integration, Network meta-analysis, and summary evaluation; (2) Translational research: evidence-based evaluation, clinical practice guidelines, clinical pathways, health economics ;  (3) Plain language summary translation in local language; (4) Original studies: randomized trials, observational studies, real-world studies, diagnostic tests, genetic association studies, qualitative research, clinical research design, clinical research plan, statistical analysis, data management and clinical protocol writing.
Centre Director:
Prof. Dr. Neeta Mohanty
Dean and Head of the Department,
Department of Oral & Maxillo-facial Pathology
Institute of Dental Sciences,Siksha 'O' Anusandhan (deemed to be) University              Bhubaneswar, Odisha
Email: dean.ids@soa.ac.in

Dr. Saurav Panda, PhD

Associate Professor,Department of Periodontics & Oral Implantology,Institute of Dental Sciences,Siksha 'O' Anusandhan(deemed to be) University
Bhubaneswar, Odisha
Email:sauravpanda@soa.ac.in

Prof. Dr. Lora Mishra

Professor,Department of Conservative Dentistry & Endodontics,
Institute of Dental Sciences,
Siksha 'O' Anusandhan (deemed to be) University,Bhubaneswar, Odisha
Email: loramishra@soa.ac.in
Our Team:

 

Information Specialist:

Prof. Dr. Shashirekha Govind

Knowledge Translation and Web:             

Prof. Dr. Anurag Satpathy

Cochrane Priority Setting Reviewer:

Prof. Dr. Satya Ranjan Misra

 

Prof. Dr. Swagatika Panda

 

Prof. Dr. Gunjan Srivastava

Continuing Education Program Coordinators:

Dr. Manoj Kumar

 

Dr. Smita Priyadarshini

Dr. Ipsita Mohanty

 

Dr. Shakti Rath

Content Developer:

Dr. Sumita Mishra

 

Dr. Priyanka Kalimireddy

 

Dr. Debashruti Nayak

Meeting Memo and Agenda:

Dr. Debarchita Sarangi

 

Dr. Naomi Singh

Logistics:

Dr. Basant Choudhury

Dr. Siba Prasad Jena

 

Dr. Gyana Ranjan Swain

Social Media Co-Ordinator:

Dr. Swati Acharya

 

Dr. Rupsa Das

Support Staff:

Mr. Deepak Mohanty (Chief Librarian)

 

Mr. Debaranjan Senapati (Accounts Officer)

 

Mrs. Rajashree Sahoo (Jr. Admin Officer)

 

Mr. Piyush Nangalia (Jr. Hospital Admin) 
Contact Us: