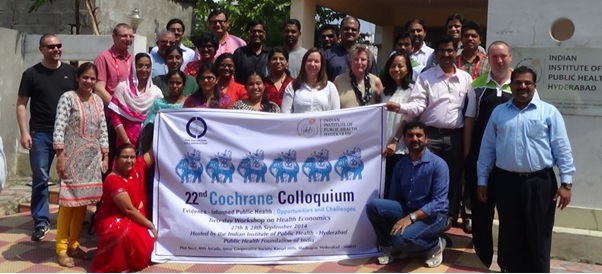 About the Indian Institute of Public health (IIPH) Hyderabad Cochrane Affiliate:
The Indian Institute of Public Health (IIPH) Hyderabad is an institution for higher learning established by the Public Health Foundation of India (PHFI) in 2008. Since then, IIPH Hyderabad had been significantly contributing to the public health priorities of not just the southern states of India but by and large the entire country and even many other South Asian countries. IIPH, Hyderabad also hosts the Centre of Excellence on Public Health Approach to Disability called the South Asia Centre for Disability Inclusive Development and Research.
The state of use of the evidence, especially in decision making in health within India and South Asia is just emerging. The COVID-19 pandemic had created an interest among key stakeholders in decision making for health using good quality evidence. Knowledge and evidence translation from high-income countries (HIC) influence decision making in medical practice. Public health interventions and health systems evidence from HICs may not be directly implementable within the Indian context especially given the demographic, epidemiological, sociocultural, and contextual diversity that influence decision making in health and social care. Anecdotal evidence coming from contextually specific, cross-sectional studies are the current sources of decision making for public health and health system strengthening.
Therefore, IIPH Hyderabad envisions capacity building as a strategic priority for:
Systematic, high quality evidence generation for public health and health system strengthening


Evidence-based decision making by policy makers and health professionals



Strengthening the primary care systems for the provision of good quality, evidence-based health and social care.
With the rapid demographic, epidemiological, and economic transitions, achieving universal health coverage for one-sixth of the world's population, living in India, with 1.3% of its GDP allocated to public financing of health, is highly challenging. This situation calls for scientifically rigorous mechanisms to make the most out of those limited national health investments. Also, it underscores the importance of setting priorities for those limited health investments based on the strongest quality of available evidence. As this could maximize the impact of evidence-based decisions on public health. PHFI and IIPH Hyderabad have been striving to build this capacity and thereby strengthen the health system of India.
Public health, Non-communicable diseases, and disability are multi-disciplinary sciences with a varied range of interventions for the diverse needs of the communities thus demanding complex and comprehensive evidence-based strategies and interventions to meet the needs of the consumers. IIPH Hyderabad envisions the capacity building efforts to make a positive impact on communities, government, and institutions to make informed –decisions to address the growing demands for public health interventions.
IIPH-H specializes in public health, Besides, it also focuses its efforts exclusively on disability within public health being the centre for excellence in disability, inclusive development, and research. Although this is a specialized area of function, the activities of IIPH Hyderabad as a Cochrane affiliate do not deviate or deliver less in other functional areas because public health in itself is an all-inclusive paradigm. However, we strongly believe in creating an inclusive area of function for disability within India, once we progress forward from an affiliate to a centre.
There are about 80 Academic researchers and about 150 researcher associates and field researchers at IIPH Hyderabad including our satellite campus in Bangalore and the 4 other IIPHs across India, of whom 15 academic researchers and 30 research associates and field researchers are based at IIPH, Hyderabad. Of the entire faculty, there are about 6-8 committed faculty (Core team) with specific interest and domain experience in systematic reviews and evidence synthesis. This team is multi-disciplinary with expertise in public health especially non-communicable diseases, behavioral sciences disability, and mental health. The core team members have been trained in systematic review and meta-analysis from the South Asian Cochrane Network, Campbell Collaboration, McMaster University, London School of Hygiene and Tropical Medicine (LSHTM), and Public Health Evidence South Asia (PHESA).
IIPH-Hyderabad has affiliations with the state governments of Telangana, Andhra Pradesh as well as Karnataka where it hosts a satellite centre in Bangalore, which will soon develop into an independent IIPH. IIPH-Hyderabad also had established the South Asia Centre for Disability and Inclusive Development Research (SACDIR) in collaboration with the London School of Hygiene and Tropical medicine (LSHTM). Therefore, the work of the institute is not just restricted to South India but covers significant parts of India primarily. It also covers South Asia and other Low and Middle-Income Countries where it has collaborators and partners.
Admin Structure:
Centre Director:

Dr. GVS Murthy

Co-Director:

Dr. Sureshkumar Kamalakannan
c.       Faculty:
Dr. Shailaja Tetali,

Dr.

Rajan Shukla,

Dr Nanda Kishore,

Dr. Varun Agiwal

Mr Hira Pant
d.      Advisory:


Dr. B.R. Shamanna (School of Public Health -

 

University of Hyderabad)

Dr. M. Jayaram (Indian Institute of Public Health - Hyderabad)

Dr. R. Giridhara Babu (Indian Institute of Public Health – Bengaluru)

Dr. Sanjay Kinra (London School of Hygiene and Tropical Medicine)

Dr. Sreekumaran Nair (Jawaharlal Institute of Postgraduate Medical Education & Research)

Dr. Ashrita Saran (Campbell South Asia)

Dr. Bhumika TV (MAHE – Cochrane PHESA)


e.       Support Staff:


Mr. Siva Nageswara Rao,

Mrs. Lakshmi Chaitanya
Contact details
Prof. G.V.S. Murthy
Director, Cochrane India Affiliate
Director,  Indian Institute of Public Health (IIPH) -Hyderabad,
Director, South Asia Centre for Disability Inclusive Development and Research (SACDIR)
Vice President (South) – Public Health Foundation of India
Plot  # 1, A.N.V.Arcade, Amar Co-op Society,
Kavuri Hills, Madhapur,
Hyderabad - 500 033.
Email: murthy.gvs@iiphh.org 
Office:  +91 40 49006003/Direct : 49006001
Dr. Sureshkumar Kamalakannan
Co-Director, Cochrane India Affiliate
India Alliance - DBT-Wellcome Trust - Early Career Fellow
Associate Professor - Indian Institute of Public Health - Hyderabad
Plot  # 1, A.N.V.Arcade, Amar Co-op Society,
Kavuri Hills, Madhapur,
Hyderabad - 500 033.
Email: suresh.kumar@iiphh.org 
Mobile +91 9676333412

Office:  +91 40 49006000/Direct : 49006023