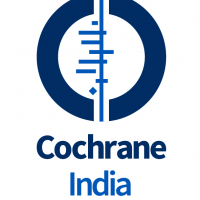 We are pleased to announce that ICMR-Cochrane Affiliate Centre Cochrane India network is organizing its first seminar on Introduction to Cochrane and Cochrane India Network to support and develop the community of Cochrane members in India, followed by the book release entitled "Beginner's Guide for Systematic Reviews on 22nd August 2022, 10:00 AM to 4:00 PM at ICMR-Hqrs New Delhi.
We hope to see active participation from your side. Please encourage colleagues to participate by registering.
Certificates will be provided for participation. See Brochure for more detail.
Venue: Conference Hall- 301, ICMR-HQRS, RAMALINGAM SWAMI BHAWAN, Ansari Nagar, Delhi-110029
Registration link: https://tinyurl.com/cochraneindia
Deadline: 15th August